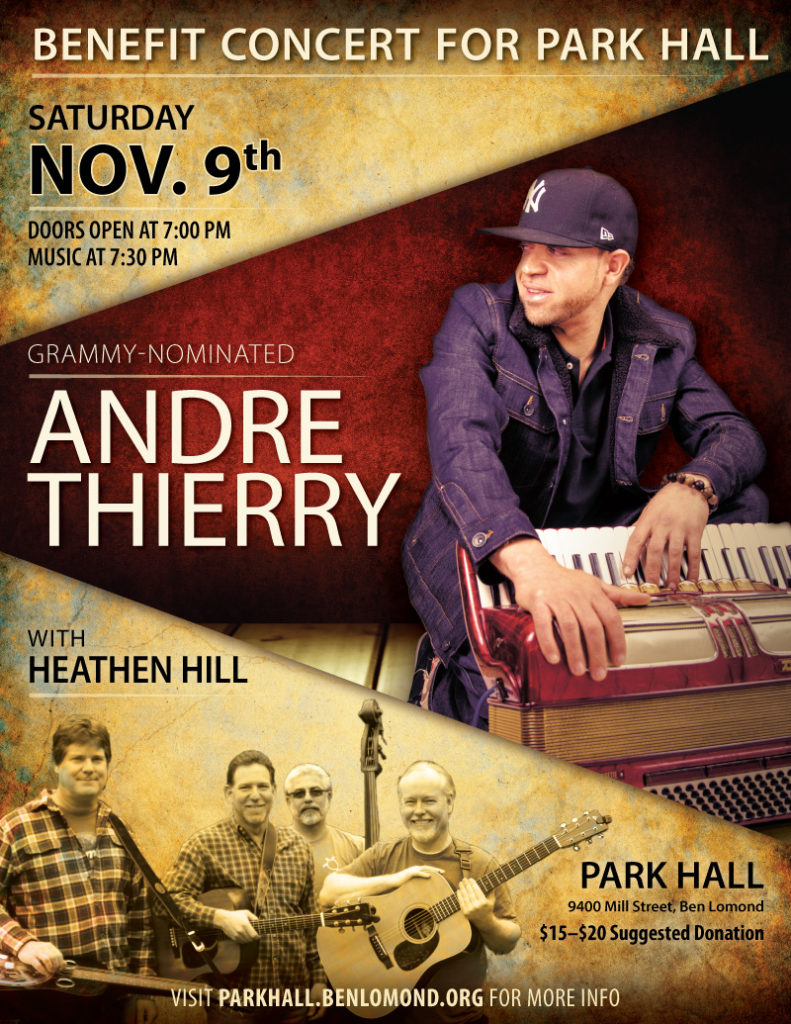 If you have ever owned a home or cared for a property, especially an old one, you know that upkeep can be expensive. Park Hall in downtown Ben Lomond is co-owned by everyone who lives within a mile and a half radius and managed by a board of elected trustees. We raise the funds needed to care for the hall by renting it out, but meet our directive that the hall is here for the benefit of the community by keeping rental costs as low as possible, especially for local residents. Park Hall is known as the home of Mountain Community Theater, and during the summer we host Little People's Repertory Theatre. Over the years we have also rented the hall out for memorials, birthdays, weddings, sock exchanges, podcast recordings, folk dance events, history talks, parties and more.
Park Hall is managed by Park Hall Trust, and is not a 501c3 nonprofit organization, but we are a community resource that occasionally reaches out and asks the community to give back. You can support Park Hall by:
* Mailing a donation to Park Hall Trust PO Box 1027 Ben Lomond, CA 95005
*Attending our benefit concert (or even just telling others about it)
* Using the hall for your next event
In the past year we have taken care of a lot of deferred maintenance and are proud of the wonderful state the hall is in. Additional improvements will be needed in the future. Your gifts help with the continued care and upkeep on the hall. The building is old and we want it to last. We need to be vigilant in caring for it proactively so it will be here for future generations to enjoy. You can help by partying with us and enjoying two great bands.
Heathen Hill is a San Lorenzo Valley group that has supported many local causes, and has connections to Park Hall. Singer-songwriter Mark Becker's wife is a member of the cast of MCT's current production, Mamma Mia. According to their website, "Heathen Hill plays a mix of original and cover songs in the Americana style of music, with a progressive bluegrass edge. Heathen Hill the band, originated at Heathen Hill, the place – our camp at the Strawberry Music Festival. We live and play in the Santa Cruz Mountains. Performing is our way of generating and sharing festival energy all year long. Heathen Hill features singer-songwriter Rick Ednie, the smoking hot guitar picker of Bluegrass Roundup; Ti Lamb on dobro; singer-songwriter Mark Becker on guitar, and Jeff Hayes on Bass and vocals." We are grateful for their willingness to kick off this concert by sharing their music with us.
Andre Thierry hails from Richmond, CA and his music makes even a non-dancers want to get up and move. "Masterful on all accordion types, playing with a force few can match, Andre Thierry is a phenomenal talent who has been capturing the attention of music lovers all over the world. The award winning musician and his band effortlessly deliver energetic performances, blending his own electrifying sounds with stirring dance beats, exhibiting elite accordion style. Whether it's your first time attending a show or a fan for longtime, it's feel good music that captivates the audience everytime!" We are lucky to have him returning to Park Hall for this special event.
Tickets will be sold at the door for a suggested donation of $15-20. Additional donations are welcome, and refreshments will be available. We are very excited about this special event and hope you will join us to celebrate and support the historic hall that was left in a trust for the use of and in the care of our local community.