May 19 – June 11, 2023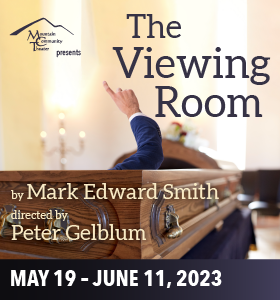 THE VIEWING ROOM
by Mark Edward Smith
Directed by Peter Gelblum
When he died, Chester Dumbrosky had a lot to be sorry for in his relationships with his wife and children. But he didn't let death stop him – he appears at his own wake to try to make amends and heal old wounds. The ensuing uproarious laughter turns serious as his dysfunctional family seeks to resolve conflicts that everyone will recognize if they can stop laughing long enough.
---
Come join the fun at the Bay Area and Central Coast premiere of a show that is both "heartfelt" and has audiences "rolling with laughter in the aisles." (The Willits News.) The cast features MCT veterans David Leach, Steve Capasso, Hannah Eckstein, Dave Halper, Tracy Smith, and Scott Kravitz, as well as actors new to MCT, Martin Kachuck and Mo Corleone.
Performances are Fridays and Saturdays at 8 pm and Sundays at 2 pm. Tickets are $20 for Seniors and Students and $25 for everyone else. May 20 is Community Night when all tickets are two for $25.
There will be a champagne reception after the show on Opening Night, May 19, and a talk-back with the cast and director after the show on June 4.
Mountain Community Theatre is currently celebrating its 41st year of bringing quality entertainment to Santa Cruz County. Masks are recommended, but not required.  Buy Tickets HERE